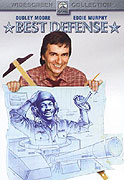 Krajna: USA
Hrajú: Dudley Moore, Eddie Murphy, Kate Capshaw, George Dzundza, Helen Shaver, Peter Michael Goetz, Tom Noonan, David Rasche, Paul Comi, Gene Dynarski, David Paymer, Raye Birk, Dennis Redfield, Joel Polis, Darryl Henriques, Deborah Fallender, Javier Grajeda, John Hostetter, Jake Dengel, Jim Jansen, Gary Bayer, Ellen Crawford, Matthew Laurance, Steve Landesberg, William Marquez, D. David Morin, Hugo Stanger
Štúdio: Cinema Group Ventures, Paramount Pictures
Wylie is a lazy engineer. Landry is a Sergeant specialising in Armour. They have never met but their lives become entangled when Landry must take the tank Wylie designed into combat. Wylie is waiting for his employer to go out of business when he meets another engineer who gives him a disk with the plans for a system that will save his employer. The other engineer is dead moments later leaving Wylie with the disk and credit for the design. Suddenly Wylie is no longer a hack, but the saviour of his company and finds his life is no longer the same.
Prístupné od: 15
Linky: CSFD , IMDB , TRAKT , TMDB
Subory na webe:
| | | | |
| --- | --- | --- | --- |
| .mkv | EN+tit | 9.81 GB | 1080p |
This web does not contain any content or links. It is for informational purposes only.