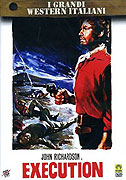 Krajna: Itálie
Žáner: Western
Hrajú: John Richardson, Mimmo Palmara, Ettore Arena, Riccardo Petrazzi, Alberigo Donadeo, Giovanni Ivan Scratuglia, Veriano Ginesi, Moisés Augusto Rocha, Néstor Garay, Angelo Susani, Piero Vida
Štúdio: Cinematografica Mercedes, Rombi International Films
Clips, a bounty killer, is after one John Coler, who has fooled him, keeping all of a loot he should have shared with him. He finally catches his prey only to discover that the man is a Coler all right but not the expected one. He is actually the outlaw's honest younger brother Bill, who works in a traveling circus. Will Clip be able to find the stolen gold? Maybe ... but only if a gang of vicious Mexican bandits - to say nothing of Bill's circus troupe - allow him to. Which they do not seem willing to do.
Prístupné od: 15
Linky: CSFD , IMDB , TRAKT , TMDB
Subory na webe:
This web does not contain any content or links. It is for informational purposes only.