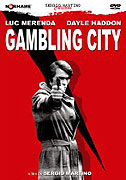 Krajna: Itálie
Hrajú: Luc Merenda, Dayle Haddon, Corrado Pani, Enrico Maria Salerno, Lino Troisi, Carlo Gaddi, Enrico Chiappafreddo, Benito Pacifico, Riccardo Petrazzi, Artemio Antonini, Fulvio Mingozzi, Tom Felleghy, Piero Palermini, Alessandro Tedeschi, Vittorio Fanfoni, Carolyn De Fonseca, Giuseppe Terranova, Bruno Ariè, Nestore Cavaricci, Salvatore Puntillo, Carlo Alighiero
Štúdio: Dania Film, Medusa Distribuzione
Luca Altieri is a gambler. He likes cards and he is a master in playing poker. He is a cardsharper too. He begins working for "The President", who has many gambling houses and everything seems to go well until Luca falls for Maria Luisa. Unfortunately for them, she is the girl of Corrado, the son of "The President"...
Prístupné od: 15
Linky: CSFD , IMDB , TRAKT , TMDB
Subory na webe:
This web does not contain any content or links. It is for informational purposes only.