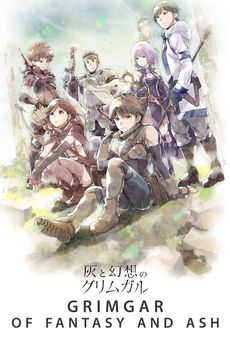 Krajna: Japonsko
Žáner: Animovaný , Dobrodružný , Drama , Fantasy
Hrajú: Daisuke Namikawa , Mamiko Noto , Tomokazu Seki , Kendži Nodžima , Tomokazu Sugita , Džódži Nakata , Tošiki Masuda , Jošimasa Hosoja , Šunsuke Takeuči , Hiroki Jasumoto , Hirojuki Jošino , Nozomi Furuki , Kendži Nomura , Šin'ja Takahaši , Hiroki Takahaši , Mikako Komacu , Nobunaga Šimazaki , Hidenobu Kiuči , Fukuši Očiai , Čika Anzai , Haruka Tomacu , Acuši Tamaru , Haruka Terui , Rjóhei Arai , Šunsuke Kanie , Kumiko Nakane , Šindžiró Sakurai
Štúdio: Toho , A-1 Pictures
Hai to gensō no Grimgar je příběhem o tom, že život není jednoduchý, obzvlášť když se objevíte na místě, o kterém vůbec nic nevíte a chybí vám kromě vzpomínek na minulost i peníze a navíc je svět, kde jste, plný lidí se speciálními a magickými schopnostmi, které vy ale nemáte - zatím...
Prístupné od: 12
Linky: CSFD IMDB TRAKT TMDB TVDB
Season 1
Episode 1
- Whisper, Chant, Prayer, Awaken
Episode 2
- Long Day of the Trainee Volunteer Soldier
Episode 3
- Are Goblin Pouches Filled with Our Dreams?
Episode 4
- Sky Dancing with Ash
Episode 5
- Crying Doesn't Mean You're Weak. Enduring Doesn't Mean You're Strong.
Episode 6
- Her Circumstances
Episode 7
- They Were Called Goblin Slayers
Episode 8
- In My Memories With You
Episode 10
- I'm Not Fit to Be a Leader
Episode 11
- Between Life and Death
Episode 12
- See You Tomorrow...
This web does not contain any content or links. It is for informational purposes only.